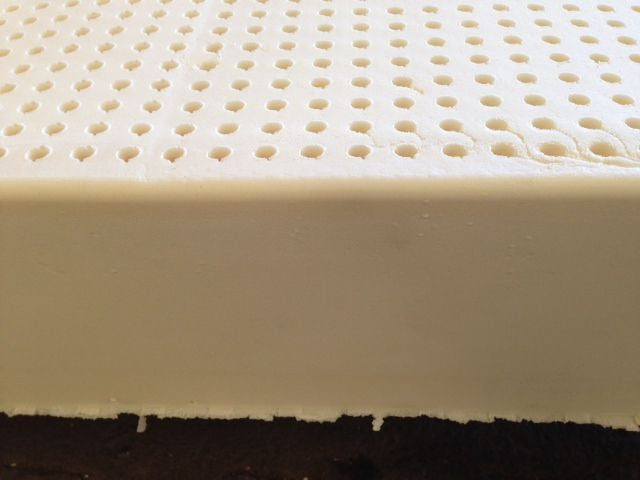 DIY Mattress
Talalay Latex Cores
Sale price
$395.00
Regular price
$850.00
When building a non-toxic DIY mattress there is no better place to start than with a Talalay latex 6" core. Our cores come in both Blended and All Natural Talalay processed latex. Both are Oeko-Tex 100 certified to be free of harmful chemicals. Blended Talalay is about 10% more durable and less expensive than its All Natural counterpart. For those who are trying to live the all natural lifestyle then the choice is obvious but for the rest the Blended might be all you really need. The Blended is what has been around for over 50 years with the all natural hitting the market less than 10 years ago but is our biggest selling item.
Selecting Firmness
Knowing that you will probably be adding comfort layers on top I always suggest a firmer base core. An ILD of around #36 or #32 is preferred by most with #32 being the most popular for side sleepers and #36 for back sleepers or those over 200 lbs. For those with extreme pressure points and issues like fibromyalgia then the much softer #28 core might be the better choice but only if you are less than 200 lbs.
Since Talalay latex cores are poured in only 2 sizes, TwinXL and Queen, all other sizes must be fabricated from those. Instead of a King size you would need 2 TwinXL cores. Instead of Cal. King you would need 2 Split Cal. King cores (36 x 84). Queen size are offered in both cut and non-cut options but the non-cut (one piece) is heavy and more difficult to handle if you are by yourself. Fulls and Twins are both 1 piece design with the Full weighing approx. 70-80 lbs.
Adding Comfort Layers
I always suggest to start any DIY Mattress with just one comfort layer and 3" is the most popular. If you are on the heavy side and a back sleeper this might be all you need to complete your do-it-yourself-mattress but I suggest a "medium" topper in your case. You can always add more layers but don't spend the extra money unless you really need to tweak the feel. If you selected a "medium" base core and are mostly a side sleeper then a 3" Plush topper would be a good choice for the next layer. If you really are a Princess in a Pea you might even want to add a second Plush topper for the ultra soft feel.
For those wanting several options then adding both a 3" Medium and 3" Plush topper gives you the ability to change things around plus giving you a full 12" of latex which is more in line with the height of today's mattresses. It's more costly of course but look at the savings you will get by putting it all together yourself.
Save
Save
---
Share this Product